KNITWEAR - WARDROBE ESSENTIALS
Aim for Iconic when it comes to your knitwear.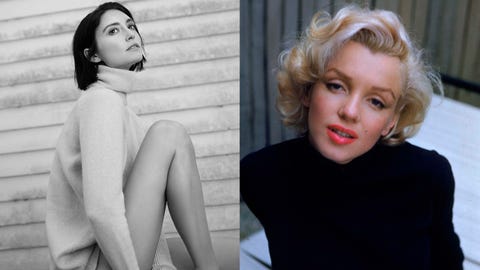 She's wearing houndstooth Capri pants and a silky black turtle neck sweater with the arms casually pushed up to just below the elbow. Her hair is casual and her makeup natural. We're talking about Marilyn Monroe – in a guise that's perhaps not front of mind when you think about the most iconic sex symbol of all time. As in, she's not really a turtle-neck kind-a-girl, is she?
Well actually, off-duty, Ms Monroe loved her knitwear and she was pitch perfect with it too. She knew its power – for understated chic and unspoken elegance. Which brings us to another Hollywood icon, Audrey Hepburn, again most famously known for glamour – the Breakfast at Tiffany's Givenchy black dress, complete with a giant pearl choker, long satin gloves and cigarette holder – but also a master at knitwear. Off screen, her wardrobe centred around a capsule of classics from the white shirt and trench to forever chic knitwear like her favourite Beatnik-style black polo, super simple crew-neck sweater or prim-in-a-good-way twinset cardigan.
So, as we now fully embrace autumn, we've decided to channel the classic chic of Marilyn and Audrey when it comes to the seasonal business of shopping for knitwear. For there is no better clothing genre to take down the classic route. We're talking versatility, simplicity and wearability.
We've picked the absolute classic knitwear pieces your wardrobe needs this season - and every season beyond.
The fine knit rollneck.
It doesn't get much cooler (think Beatnik), or more classic (think Audrey) than the fine knit polo. As well as being warm and comforting (not small pluses), it's an elegant style that serves to complement and enhance an outfit, rather than compete for attention. It's brilliant for layering too and suddenly adds a new dimension to, say, a pinafore or boilersuit (both very this season).
The scoop neck
A long-sleeved knitted t-shirt is such a versatile piece to own - you can wear it with literally anything. Add a scoop neck and it's low key-sexy thanks to the subtle reveal of skin. You can easily wear this style to work, or with well-loved jeans, but it feels particularly right as part of a weekend, wear-with-your-yoga-pants kind of look.
The knitted tee
Another wardrobe essential – takes the simplicity of a t-shirt and elevates it, thanks to the supersoft, superfine knit and beautifully finished hems. This season, the knitted tee will be the perfect pairing for cord, or to layer under a trouser suit for work. The soft blazer
Is it a cardigan or is it a blazer? Answer: it's both. This is a cardigan for people who never feel quite dressy enough when wearing a cardigan, and the perfect blazer for people who usually avoid suits. Belt up and wear with loose-fitting trousers for an elegant ensemble. Also great with a pencil/midi skirt.