HOW TO WEAR THE PERFECT CHUNKY SWEATER KNITWEAR CARDIGAN - BOHO KNITWEAR STYLING GUIDE
Wool has long been a mainstay of the winter wardrobe, but over the centuries , knitwear has come a long way from where it once was. 
FROM THE CHUNKY SWEATER SUNDAY MORNING TO THE ELEGANT CASHMERE CARDIGAN - TIMELESS AND FOREVER
Knitwear is the winter giving back. When temperatures are low, woollen jumpers and cashmere cardigans ensure that sartorially we remain on a high. Whether sumptuous cashmere, the perfect merino or that cardigan that's been passed down through the family, we've long held regard for knitwear.
From the chunky knit that you rely on for Sunday morning dog walks, to the elegant cashmere cardigan that softens your workwear tailoring, or that colourful jumper that brightens up a gloomy grey winter, is there anything more delightful than cosying up in knitwear? It's ageless, timeless and forever.
The beauty of knitwear is that while it holds its classic allure, it's also moved with the times. While jumpers – bearing not a single seam – fit the body in a new way that offers a modern approach to that classic winter knit. Simple, stripped back and elegant – an easy way to achieve everyday style.
Knitwear today prides itself on being functional, stylish and packed full of innovation. But that wasn't always the case, as Vogue explains. From the graphic prints of the 1960s to the oversized styles popularised in the 2000s, head back in knitwear history to see how we ended up where we are today…
KNITWEAR 1960s
Geometric prints, graphic patterns and rising hemlines – the Sixties brought a new way of dressing to all aspects of the wardrobe, and the decade's new aesthetic found itself spanning across into knitwear, too. Woollen socks came striped and pulled up to the newly created miniskirt, while the classic jumper took on the new issue of prints in close-to-the-skin polonecks. Gamine-chic ruled the decade and not least, knitwear.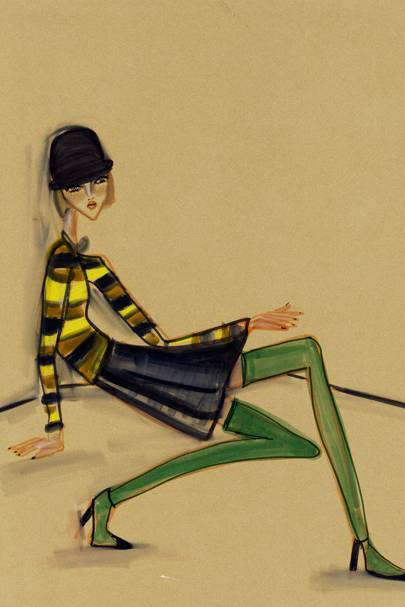 KNITWEAR 1970s
By the '70s, knitwear was welcoming in the new folkloric prints that were becoming de rigueur. Prints were better worn clashed and few looks have now gone on to define the decade more than a painterly floral bell-sleeved dress and a knitted tank in a hardy yarn, or a homespun-style sweater paired with enveloping flares and flicked-out hair layers.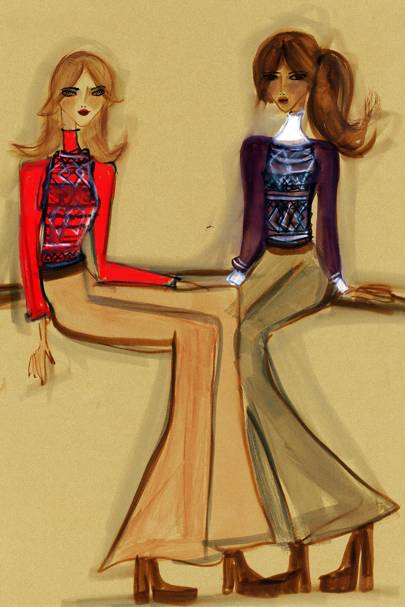 KNITWEAR 1980s
The cosy comfort of knitwear hit the mainstream as knits took on the decade's mood of excess: silhouettes were loose, oversized and often falling off shoulders. Advancing technologies meant that colour-pop shades became the perfect accompaniment to the look-at-me, all-or-nothing aesthetic the decade championed. Knitwear moved from daytime comfort to a round-the-clock option best worn with dangly earrings and a plentiful supply of bangles.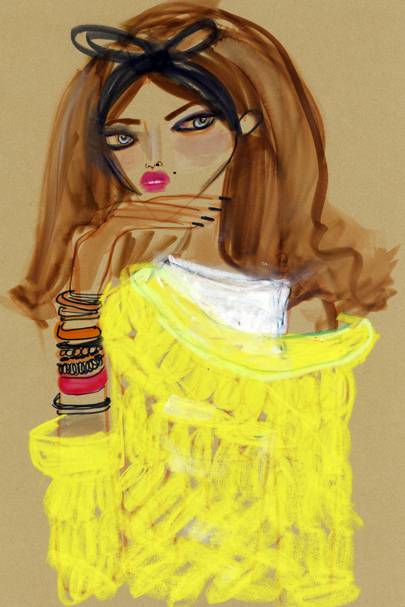 Knitwear gets glamorous. Oversized like previous decades but worn in a new way. Second-skin pants were every It-girls go-to and nothing paired with them better than an androgynous borrowed-from-the-boys cashmere jumper in a neutral shade. Gargantuan sunglasses, an inexplicably large bag and mega platforms were not obligatory, but definitely encouraged.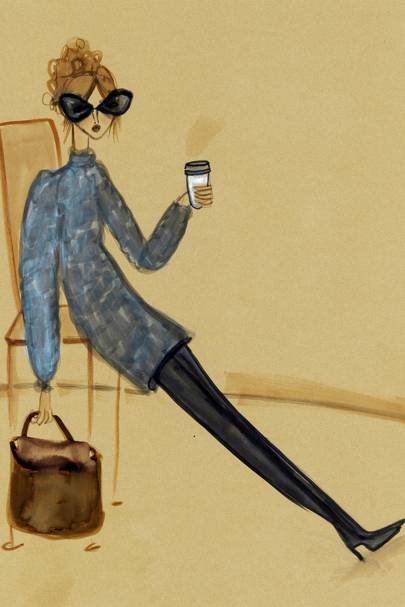 KNITWEAR Today
If knitwear had been about wrapping up warm in the past, then its appearance and functionality are now considered more than ever. How do we get the most out of our jumpers, dresses and cardigans? There's never been a chicer moment in time to step out in knitwear than right now. 
SHOP MOMO's DESIGNER KNITWEAR COLLECTION HERE